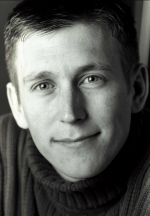 Name: James Guymon
Born: 09.13.1977, Tucson AZ USA
Occupation: film composer
Current VP of the Composers Guild of America.
Member of the National Academy of Recording Arts and Sciences
Writer and publisher member of ASCAP
Profile at imdb.com
Musical Background: Classically trained since age 4.
Musical training at the University of New Mexico, DePaul University, & Brigham Young University. Composition student of Christopher Young.
Primary Instrument: Viola
Secondary Instrument(s): Violin/Piano/Keys/Mandolin/Bass Guitar/Guitar
Specialties: horror / Suspense ; Science Fiction / Fantasy ; Quirky Comedy; Parody
Key Strengths: Distinctive style centered around Strong Melodic / Thematic writing. Unique Soundscapes / Textures. Huge, Bombastic, Monolithic Percussion. Odd, Unique use of traditional instruments. Integration of exotic instruments from around the world. Expert with Both Live and Virtual orchestras. Strong abilities with non-Orchestral music including rock and folk. Educated in Film Theory, Narrative. Exceptional ability to communicate / collaborate with Filmmakers.
Key Influences: Jerry Goldsmith, Christopher Young, Elliot Goldenthal, Wojciech Kilar, Richard Band.
Record Label(s): Erm Media/Naxos
Trivia: Fluent in Mongolian Language. Competitive Tournament Chess Player. B.A. Degree in Philosophy, Minor in Formal Logic.
Credit Sheet:
Features
Shadows Fear Film Productions; Suspense/Thriller
Black Reign Dir. Jeffrey Lynn Ward; Horror
Two Front Teeth Roast Beast Prod, LLC; Horror/Comedy
The Carpet Creature Sidewalk Cinema; Monster/Comedy
Shorts
Nature's Ashtray Dream Shake Media; Eco-Political Comedy
Mop Men Dir. Brad Crowe; crime drama
Put Him In The Ground Dir. Daniel Vang. HD; Drama
Revenge Dir. David Livingston. DV; Suspense/Thriller
Control Dir. Brad Crowe. 16mm; Sci-Fi/Fantasy
Failed Attempts Dir. Amanda Sweikov. DV; Comedy
Transaction Dir. Jacques Thelemaque. 8 mm; Drama
Frisbey Dir. Jeff Hill. 8 mm; Drama
Deadline Dir. Erica Doering. DV; Sci-Fi
Be With Us Lifesong Stories & Films. DV; Drama
My People Lifesong Stories & Films. DV; Drama
Little Birds Dir. Miles Romney. HD; Drama
TV
ParaAbnormal Pilot Produced by Eduardo Sanchez (Director of The Blair Witch Project)
Bonehead Pilot starring Sinbad
Power Rangers Disney (additional music)
WWE Raw USA (additional music)
Crossing Jordon NBC (Promo)
Law and Order: CIU NBC (Promo)
Medium NBC (Promo)
Tonight Show with Jay Leno NBC (Promo)
Dateline NBC NBC (Promo)
Indy 500 ABC Sports (additional music)
Biography – Salman Rushdie A&E (additional music)
Skeleton Stories Discovery Channel (additional music)
Megas XLR Cartoon Network (additional music)
Audio Fiction
After A Lean Winter David Farland; Sci-Fi; MechMuse
On My Way To Paradise David Farland; Sci-Fi; MechMuse
Bram Stoker's Dracula Bram Stoker; Horror; MechMuse
Expensive Gifts Miles Romney; Fantasy; mechMuse
The Second Rat David Barr Kirtley; Sci-Fi; MechMuse
Veil of Ignorance David Barr Kirtley; Sci-Fi; MechMuse
The Elf Trap Francis Stevens; Fantasy; MechMuse
The River is Forever Edmund Schubert; Fantasy; MechMuse
Primary Colors Richard Raleigh; Sci-Fi; MechMuse
Video Games
Ys VI: The Ark of Napishtim Konami/PlayStation 2; Adventure, Fantasy
Commercial:
Featured Project: Hyundai Genesis Launch Ad Agency: Jack Morton Worldwide
Partial Client List:
Jeep/Eagle Marriot School of Business Buick MechMuse Audio Magazine
Chrysler Brigham Young University Direct TV BrideAccess.com
Hyundai Potawatomi Casino Realms of Fantasy Lifesong Stories & Films
Midwest Wireless Democratic Party of CA ManyOne Networks Dreamseeker Digital
Concert:
Concerto for Viola and Orchestra Full orchestra + solo viola. Written for virtuoso Brett Deubner (in progress)
Symphony 1 String Orchestra (in progress)
Audio Portraits Musique Concrete
Nocturne: Visions of Atlantis Full Orchestra + Choir
Fear and Trembling Choir
Human Sorcery Suite for Full Orchestra Full Orchestra
Subliminal Fantasy Synthesizer