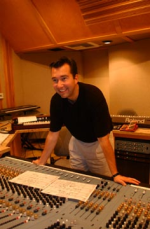 The innovative and animated imagination of musician/composer Ken Joseph was born under the influence of Bill Evans, Oscar Peterson, Duke Ellington, Herbie Hancock, Johnny Mandel and Jerry Goldsmith and John Williams. Scoring music for film, television, and new media has emerged as the ideal expression of this imagination, and serves to compliment his craft.
Throughout his formative years Ken remained immersed in the orchestral inspirations of Holst, Debussy, Ravel, Richard Strauss, and Tchaikovsky while receiving extensive training in the techniques of the Masters. At 14, his piano professor, Matt Michaels (who founded the Jazz Studies and Contemporary Media program at Detroit's Wayne State University) encouraged Ken to get out and play so he could "learn on the bandstand" while enhancing his studies in music theory.
This valuable guidance brought a unique level of experience and confidence to Ken's work at an early age and allowed him the freedom to incorporate the influences of the internationally revered professionals that he performed with on many occasions. Most importantly, it gave him the opportunity to earn a living as a musician while flourishing as a conductor and arranger for big bands and orchestras. He later attended the Center of Creative Studies Conservatory and graduated from Wayne State University where he studied Composition and Jazz.
For years Ken has accompanied vocalists and written arrangements for private and commercial projects which have enhanced his interest and expertise in composition. The work brought him the chance to conduct smaller ensembles in the recording studio.
Sound design became the next challenge to master and added yet another facet of musical expertise to Ken's resume. The opportunity to work with sound engineers, and a fascination for computer technology, enhanced his proficiency for "sync to picture" techniques. This became consequential to the direction he took as a composer.
"Creating a great score brings a fresh dimension to the project. It pays tribute to all the elements of the story while giving unique emotional accompaniment to the plot. It is not always noticeable from an audience perspective, but is always unforgettable." Ken's recent film score for the short film, "The Pitch", won a Gold Medal of Excellence at the 2008 Park City Film Music Festival.
Ken has performed with jazz greats such as Jon Faddis, Rick Margitza, Doc Severinsen, Marvin Stamm, and Paul Anka. He has also appeared in various jazz festivals around the world, including the Montreux Jazz Festival in Switzerland.